Theme Night Dinners with Saveur Foods
Do you ever feel like you make the same things every week for dinner? Meal planning can be more fun with theme nights. Think Meatless Mondays, Taco Tuesday, Breakfast for Dinner, and more. Once you've decided on your theme nights check out the options available using Saveur Foods spices and vinegars. Also, it's super easy to adapt recipes you already have to use Saveur Foods spices and vinegars as you'll see below. Feel free to use this week of themed recipes for your dinners next week. Plus, most of these recipes will fit the Keto, Rev 90, and Wellness 90 programs.
Meatless Monday
Kick off the week with a delightful Thai Vegetarian Larb Lettuce Wrap that is so good you won't miss the meat. Larb is a meat dish from Laos but is easily adapted to vegetarian by swapping meat with cauliflower. This recipe was included in the Perfect Pairings May 16-31, 2018 recipes on Saveurrecipes.com.
THAI VEGETARIAN LARB LETTUCE WRAP
Ingredients
1 small Cauliflower, broken into florets
2 tbsp ghee
1 1/2 tbsp Saveur Thai Mix
1 clove garlic, chopped
1 tbsp palm or soft brown sugar
3 limes, juiced
1 tbsp soy sauce or aminos
1 red onion small, finely chopped
coriander (small bunch), chopped (keep some leaves whole for decoration)
4 Romaine/Cos lettuce leaves, separated
Instructions
Put the cauliflower into a food processor and pulse gradually until you achieve a rice-like consistency. Heat 2 tbsp ghee in a large frying pan. Add the cauliflower and cook for 3-4 minutes. Whizz the garlic, Saveur Thai Mix and sugar in a small food processor. Add the lime juice and soy sauce and whizz again. Pour over the cauliflower and stir in the onion and coriander. Pile onto a bed of lettuce and scatter with more coriander to finish.
Taco Tuesday
This is probably the most common theme meal night, but there are multiple taco options based on the meat you choose (beef, chicken, seafood) or even go meatless. For this night, we're taking the Prawns on the Barbie recipe and wrapping them in cabbage and tortillas for a yummy shrimp taco.
PRAWNS ON THE BARBIE TACOS
Make Prawns according to recipe.
SLAW Ingredients (from Food Network – Ree Drummond recipe)
1 jalapeno, sliced
1/2 head green cabbage, thinly sliced
1/2 head purple cabbage, thinly sliced
1/2 cup whole milk
1/2 cup mayonnaise
1 tablespoon sugar
1 teaspoon white vinegar
1/4 teaspoon cayenne pepper
1/4 teaspoon kosher salt
1/2 bunch fresh cilantro, roughly chopped
Instructions
Combine the sliced jalapeno and shredded green and purple cabbage in a large bowl. In a separate bowl, mix the milk, mayonnaise, sugar, vinegar, cayenne and salt. Pour the milk mixture over the cabbage and jalapeno and toss to combine. (Cover and refrigerate for a couple of hours if you have the time.) Before serving, toss in the cilantro.
For serving:
Warm 16 corn tortillas according to package directions. Fill with shrimp and slaw. Top with other toppings as desired (avocado slices, grated cheese, fresh squeezed lime, etc.).
Breakfast for Dinner Wednesday
Is there anything better than breakfast for dinner? Waffles. Eggs Benedict. Chocolate Chip Pancakes. Hash Browns. The list goes on and on. You can make this meal simple or fancy, which this French Toast Ham and Cheese Sandwich sits right in the middle. Reminiscent of the classic Monte Cristo, without all the work, this sandwich has a lovely sweet and savory combination that will really hit the spot.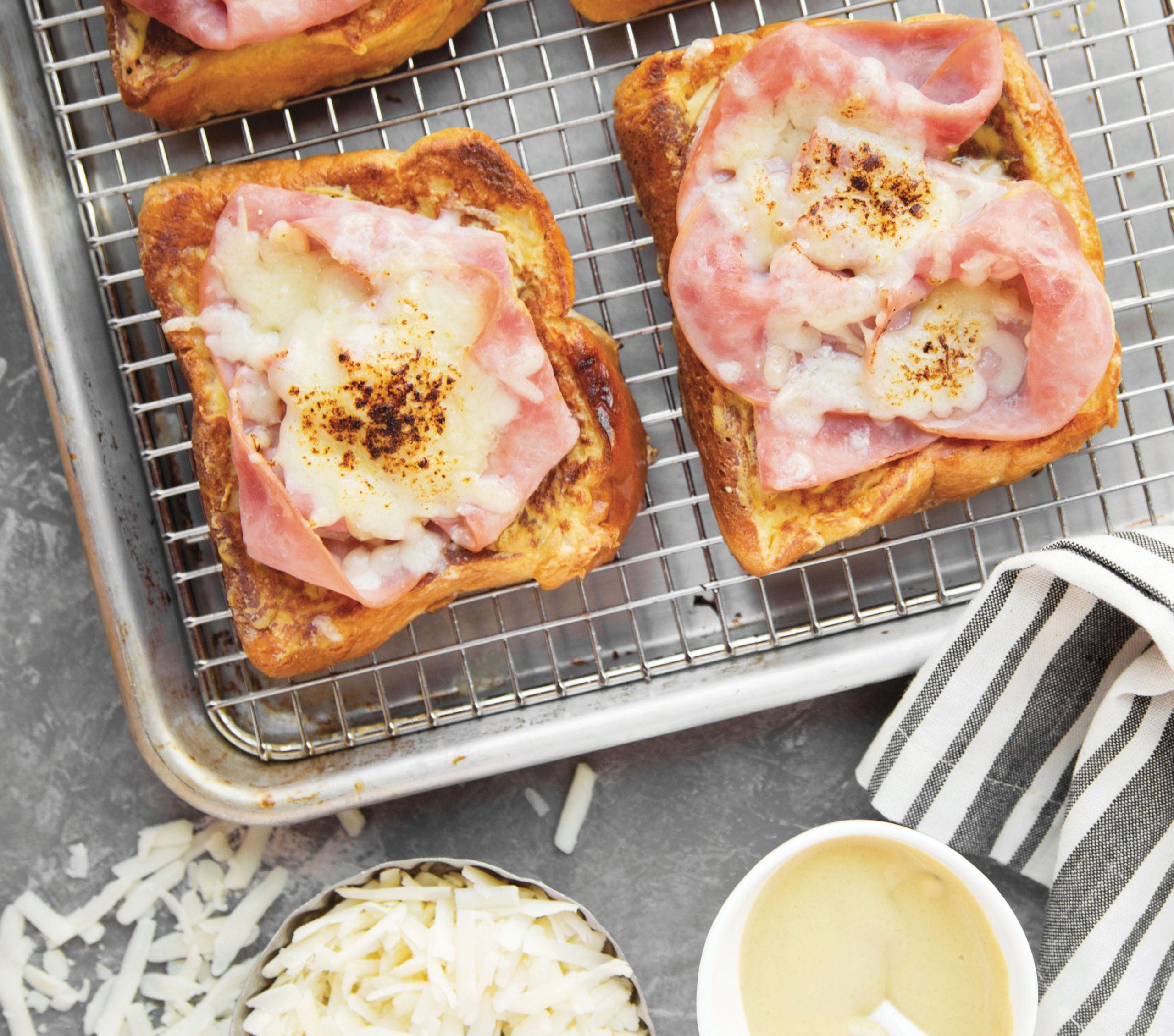 FRENCH TOAST HAM AND CHEESE SANDWICHES (recipe adapted from Delish)
Ingredients
For the French Toast
3 large eggs
1/2 c. whole milk
1 tbsp. sugar
pinch of kosher salt
Pinch of freshly Saveur Nutmeg Blend Baking Spice
Clarified Butter, for the pan
4 thick slices brioche
For the sandwiches
Dijon mustard
12 very thin ham slices
1 c. finely grated Gruyère cheese
Instructions
Make the French toast: In a medium, shallow bowl, whisk together eggs, milk, sugar, salt and Nutmeg Blend Baking Spice.
In a nonstick skillet set over medium heat, melt enough clarified butter to coat the bottom of the pan. Dip a slice of brioche into the egg mixture, and let rest for about 15 seconds on each side before transferring to the hot pan. Cook until golden brown on both sides, about 2 minutes per side. Transfer to a wire rack, then repeat with remaining bread slices.
Make the sandwiches:
Heat broiler.
Spread each slice of warm French toast with as much Dijon mustard as you'd like. Top each piece with three slices ham and sprinkle with Gruyère. Place on a baking sheet.
Broil for about 2 minutes, until ham is toasted and cheese is bubbling and melted. (Keep an eye on the sandwiches; they burn quickly.) Serve warm.
Crock Pot Thursday
This slow cooker recipe is going to make your Thursday night feel like a special Sunday meal. And really, you could use it for that day as well. Mango Slow Cooked Beef falls apart when done so you can use it on sandwiches, serve it with potatoes and veggies, or eat it as is.
MANGO SLOW COOKED BEEF
Pizza and a Movie Friday
Are you a red sauce, white sauce, BBQ sauce, or olive oil type of pizza person? No matter the sauce, the Saveur Pizza Spice makes whipping up the sauce easy. For the red sauce lovers, here's a sauce recipe you can make in advance and freeze or use as you make it. Make your dough (or use french bread or other pre-made crust), add your favorite toppings, grab your favorite movie, and enjoy a pizza and movie night with friends and family.
HOMEMADE PIZZA SAUCE (recipe adapted from Taste of Home)
Ingredients
2 cans (15 ounces each) tomato sauce
1 can (12 ounces) tomato paste
1-2 Tbsp. Saveur Pizza Spice
Instructions
In a large saucepan over medium heat, combine tomato sauce and paste. Add Saveur Pizza Spice; mix well. Bring to a boil, stirring constantly. Reduce heat; cover and simmer for 1 hour, stirring occasionally. Cool.
Pour into jars or freezer containers, leaving 1/2″ headspace. Freeze up to 12 months. Thaw frozen sauce in refrigerator before serving.
Soup & Sandwich Saturday
Busy Saturdays call for meals that are quick and easy or can be put together early in the day and will be ready for dinner. These soup and sandwich recipes are not your ordinary versions and will be the perfect way to bring the family together. These recipes are only available in this blog post but will be available soon as a PDF.
ROASTED CAULIFLOWER, SPINACH & LENTIL SOUP
Ingredients
1 large head of cauliflower, cut into pieces (discard leaves, core/tough stalk)
Saveur Himalayan Salt & Pepper
6 cups vegetable stock
2 tsp soy sauce
1 tsp garlic powder
1/2 tsp onion powder
1/2 tsp dried parsley
1/4 tsp paprika
1/8-1/4 tsp dried thyme
1 cup cooked lentils
1 cup sliced carrots
1 Tbsp. Butter
2 cups fresh baby spinach
Instructions
Place cut up cauliflower on a parchment-lined baking sheet and sprinkle with a little salt and pepper. Roast at 400F for 30 minutes, turning halfway.
Saute carrot slices in butter until softened, and set aside. To a large pot, add: roasted cauliflower, vegetable stock,  soy sauce, garlic powder, onion powder, parsley, paprika, and thyme. Heat soup until it is warmed and hot (don't boil). Take out 2 cups of soup and blend in blender or use an immersion blender to blend and make creamier.
Add in carrots and lentils. Bring to a simmer over medium heat. Stir in the spinach and simmer for another minute, or until the spinach is wilted. Serve.
OPEN FACE CIABATTA HAM & PEAR SANDWICH
Ingredients
2 Ciabatta rolls, cut in half.
1/4 cup cream cheese
1 tsp. lemon juice
1 Tbsp. chopped fresh basil
1 cup baby arugula
1 Tbsp. Saveur Spiced Fig, Maple and Pear Balsamic Vinegar
4 oz. thinly sliced ham
2 cups thinly sliced pears
1/4 cup red onion, thin sliced
1 oz. shaved Parmesan Cheese
Instructions
Preheat broiler. Place rolls, cut sides up, on a baking sheet Broil 4 to 5 inches from heat 1 to 2 minutes or until lightly toasted.
In a small bowl combine cream cheese, basil and lemon juice; spread on rolls. In another small bowl drizzle arugula with vinegar; toss to coat. Top rolls with ham, pears, arugula, onion, cheese.
Something Special Sunday
Many people gather their families for Sunday dinner. Or invite friends over for a special meal. The Baked Ham with Fruit recipe combines the Downunder Gourmet Grill Rub and the Mango, Apricot, & Strawberry Balsamic Vinegar to create a ham that looks as good as it tastes. Pair it with one of these sides for an unforgettable meal: Roasted Balsamic Brussels Sprouts, Greens with Asian Pears, or Cranberry Feta Walnut Salad.
BAKED HAM WITH FRUIT
You now have a week's worth of recipes, but we know that some of these may not work for you and your family, so here are a few other ideas for themes:
Ethnic Foods
Italian
Mexican
Asian
Italian
American
French
Protein Type
Chicken
Beef
Pork
Fish
Beans
Meatless
Wacky Week
Breakfast for Dinner
Something New
Kid's Choice or Kid's Cook Night
Take Out Made In
Leftovers Night
Appetizer Dinner
Movie Night – meal themed around a movie, for example, Lady and the Tramp Spaghetti and Meatballs
Style
Soup Night
Grill Night
Pasta Night
Salad Night
Stir-Fry Night
Sheet Pan Dinner
Casserole Night
Hopefully this gives you a few ideas for shaking up your dinners and having fun with Saveur Foods spices and vinegars. Cooking should always be this fun!
---